Because of lots of reasons
Because they look like a Morris Minor that has gone soft in the sun?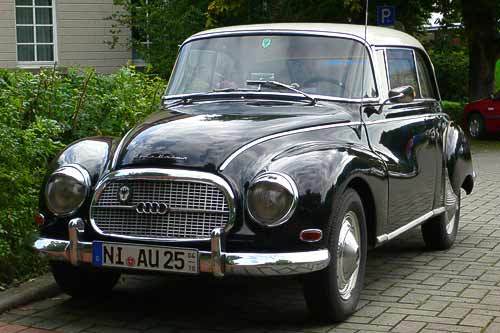 That is an Auto Union car.
Auto Union Deutchlander Ingolstadt -AUDI
Auto Union became Audi when VW combined it with NSU.
Nah Audi Auto union was formed In 1932, Audi merged with Horch, DKW and Wanderer, to form Auto Union AG. The four rings of the Audi badge symbolize the brands Audi. Horch, DKW and Wanderer. NSU didn't join the clan until 1969.
On July 16, 1909 automotive pioneer August Horch founded August Horch Automobilwerke GmbH in Germany. A short time later he renamed the company after the Latin translation of his last name – making it Audi Automobilwerke.
Yes I too read that on Wiki but the name Audi (the car) was first used in the sixties when Auto Union and NSU ceased.
The car above is a Auto Union as stated on the bonnet.
I didn't read that on wiki, Nsu were bought by VW in 1969 and merged with Audi but the NSU name remained until 1977. I thought it was Mercedes who first used the Audi name on cars when they owned it in the fifties but I could be wrong
Audi as a brand dates back to 1910:
From Wikipedia:
"On 14 November 1899, August Horch (1868–1951) established the company A. Horch & Cie. in the Ehrenfeld district of Cologne. Three years later in 1902 he moved with his company to Reichenbach im Vogtland. On May, 10th, 1904 he founded the August Horch & Cie. Motorwagenwerke AG, a joint-stock company in Zwickau (State of Saxony).
After troubles with Horch chief financial officer, August Horch left Motorwagenwerke and founded in Zwickau on 16 July 1909, his second company, the August Horch Automobilwerke GmbH. His former partners sued him for trademark infringement. The German Reichsgericht (Supreme Court) in Leipzig,[13] eventually determined that the Horch brand belonged to his former company.[14]
Since August Horch was banned from using "Horch" as a trade name in his new car business, he called a meeting with close business friends, Paul and Franz Fikentscher from Zwickau, Germany. At the apartment of Franz Fikentscher, they discussed how to come up with a new name for the company. During this meeting, Franz's son was quietly studying Latin in a corner of the room. Several times he looked like he was on the verge of saying something but would just swallow his words and continue working, until he finally blurted out, "Father – audiatur et altera pars… wouldn't it be a good idea to call it audi instead of horch?"[15] "Horch!" in German means "Hark!" or "hear", which is "Audi" in the singular imperative form of "audire" – "to listen" – in Latin. The idea was enthusiastically accepted by everyone attending the meeting.[16] On 25 April 1910 the Audi Automobilwerke GmbH Zwickau (from 1915 on Audiwerke AG Zwickau) was entered in the company's register of Zwickau registration court."
But Dave is, strictly speaking, correct that the picture is of an Auto Union. I don't care, I was just trolling
Yes would not dispute that it is a post 1932 car
This new forum's full of feckin' Audi pedants

Audi lovers lick dead dogs dirty dicks.
Jealousy is such an ugly emotion
It has got a wing mirror though, so you can dead eye the person you just cut up.