I'm merely the reporter - a baffled one at that…
Mine turned up today.
Excellent for the money

So did the wife's
I should be on commission.
With all this exciting talk of cost effective wireless cans, I thought I'd post today's wireless arrivals. On the right is the Grado GW100X which is yours for £249… or a whisker under ten pairs of HD250BTs. On the left is the T+A Solitaire T which is… and there's no getting around this… £1,200, making it the most expensive Bluetooth can I've ever tested. Maybe I should test them against 46 pairs of Sennheisers

.
Haven't heard either of them yet. Just charging them for use over the w/e,
Unconventional way of wearing them…
Like using finest antique glass to drink a Panda Pop.
For the last god knows how long we've been faffing about with plinths / Materials / Designs / Listening & rejecting etc… we've arrived at this. The 'Grosvenor' is constructed from a particular sustainable Bamboo. Internally the design is rather different, the concept being to break up the mass leading towards the arm. The veneer is Walnut, the armboard is lacquered Bronze. There's a few tweaks to go (Motor detachment pillars etc) but all in it's sounding very nice. The hardest part in terms of 'Look' is making something simple, ordered and beautiful, then moving from the symmetry to the outrigger tonearm board. In terms of sound there has been more plinths on trial here than I or my bank account care to remember. It'll probably trot along to Lopwell at some point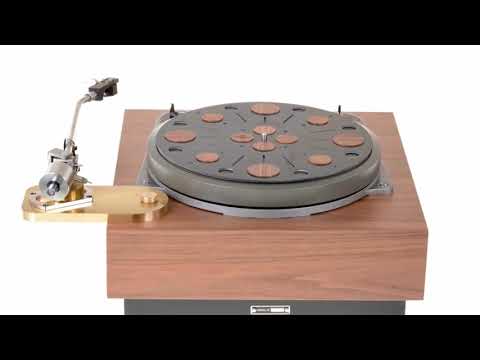 Play test
Looking great. Also I have to complement you on your choice of music even if the label is off-centre.
Haha I know the label does plague the eye doesn't it.

Just trying some EPOS M5i speakers, lovely little things and surprisingly heavy!
Not my image.

Where did you find a good deal?
On amazon. £260 down to £114
And they're £48 now.
All. The. Smug.