That's the wine talking now…
Give it up as a phase, Dave

Yep. But I can always dream

On the way to work yesterday , I met the owner of this bus. I'll get to drive it hopefully!
I hope to reactivate my interest in Buses which has taken a fucking beating over the last five years.
This may see a transition from red to green…
Do love 'Modern Toss'.
Forgot to share pictures I found somewhere on t'internet…
These vehicles- and some of their drivers- fostered my interest in buses which ultimately saw me driving and for a period of seven years- training people how to drive buses!

My memory of the same type of bus is travelling on the 163 to and from the always ugly Piccadilly Bus Station.
Mind you the amount of fumes I inhaled in the Arndale Bus Station I suspect wouldn't pass modern standards.
[url=https://flic.kr/p/DEh2uD]
Thankyou for sharing those photos! Always great to see pictures of buses in service- rather than staged publicity shots!
The first bus is a MCW Metrobus Mk1. Over a thousand of these were bought by London Transport alone.
Obviously, West Midlands Transport- and it's predecessor bought a number of these too!
GMPTE also had some MCW Metrobus underframes bodied by Northern Counties of Wigan.
The bus below is a Leyland Atlantean AN68 with Northern Counties 'Standard' bodywork.
Maidstone and District bought a number of these from GMPTE in the mid 'eighties; they were im service for about ten years.
You mentioned fumes; bought back memories of waiting for buses here with the smell of diesel fumes mixed with the smell of cheap cheese from the pizza shop that was nearby…
Here's an ex GMPTE Maidstone and District Atlantean.
I remember the black lower Formica panels and white Formica ceiling panels with orange seats. I think they were vinyl…
I moved to London early 80's but every time I visited my parents the buses never seemed to change. Also one of the last places where smoking upstairs was still common, even years after it had been banned.
My local buses in the 80's were a mixture of the following.
and the sadly missed ugly duckling
[url=https://flic.kr/p/hB8Mwo]
London Transport: BL34 (KJD434P) from Highgate Garage turning into Finchley Road from Canfield Gardens on Route C11
My school commute from 69 to 75 was the 68 bus from South Croydon Garage to Crown Point SE19.
Started on RTs but nearly all the 70s period was on RMs.
It was a prodigious route from SCG to Chalk Farm in those days.
I remember an article in one of the music papers in the 80s extolling the virtues of the route and listing all the venues (there were a lot of them) that were easily accessible from The Roundhouse (originally a railway turning shed) at one end, to the Underground (Indie venue in 80s at the bottom of St Georges Walk) in Croydon
Yes the 68 was a very long route, only ever took it was far as Elephant and Castle. Chalk Farm bus depot just off Chalk Farm road was a dread for us. Often in the early evening buses would terminate early at Chalk Farm meaning you had to wait for the next one with nearly a full bus worth of passengers.
This was doing the shuttle between the British Motor Museum and Leamington Spa station yesterday if anyone wants to nerd out on it.

Wow !!! The grille-less face suggests that it is a very early Bristol Lodekka (or FLF, I don't know the differences between these)



New Product Launch!
Styling looks neat and clean from these crude renderings; may seem harsh but a driver needs an opening cab window!

Here's the distinctive sound of the the Leyland 510 Fixed Head diesel engine in a 'National…
It has carried Dolly Parton and Fleetwood Mac apparently…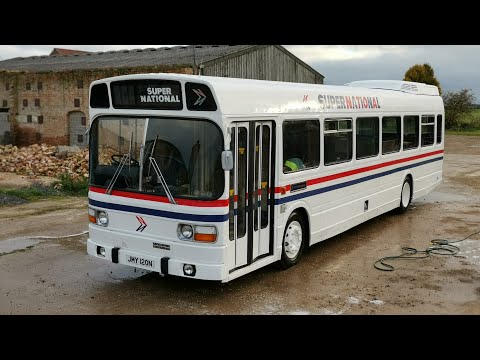 That engine is so fucking loud…
It really is! I'd love to make excuses- like a lack of seats and people inside causing it to seem louder- but I can't.
Many memories of travelling on these; Maidstone to Hastings being the longest journey.
Imagine life for a Lorry Driver sat next to the cunting thing for hours on end!
The Leyland Leopard was even louder. I remember waiting for a mate who was driving his. I was chatting with someone on the 'phone and they asked what the noise was.
It was the 'Leopard and it was a few streets away!
Was that station at the Chequers Centre? We moved to Maidstone when I was 16 and I remember the first time I caught a bus with my sister, we had what we thought was enough money for a bus in to town and a can of coke each, then a bus back. We got on the bus and the trip into town took all of our money! The bus into Hull city centre used to cost 20p and was twice as far. Can't remember what the bus in Maidstone cost but, as a tight-fisted northern lad, I didn't use the bus very often in Maidstone.